May 20, 2022
Decarbonization declaration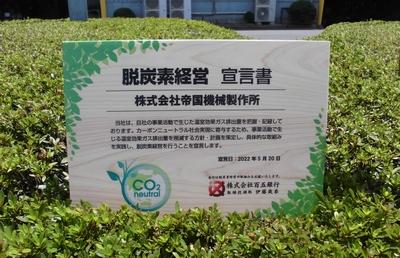 On May 20, 2022, Teikoku Machinery Works made a declaration to become decarbonized. This is part of the Hyakugo Bank's program to support businesses in their efforts to limit CO2 emissions as soon—and as much—as possible.

Our carbon-neutral promise
We are decarbonizing our business activities to help bring about a carbon-neutral society. We monitor and record greenhouse gas emissions from our business activities. And we formulate policies and plans so that we can reduce such emissions and take concrete action toward decarbonization.